A three-bedroom house in East Yorkshire is being built by a robot, in what has been described as a UK first.
Instead of labourers, the house in Everingham is being built by a robotic bricklayer created by Construction Automation.
The company said it would increase productivity, build better quality houses and improve health and safety on sites.
But a union said automation "poses a serious threat to jobs".
David Longbottom, who formed the Pocklington-based firm alongside fellow entrepreneur Stuart Parkes, said its automatic bricklaying robot was laying all the bricks, blocks, and mortar and could "build around corners".
Construction started on 28 September and the company expected the build to be finished in two weeks but "teething problems" mean it is likely to be completed in three weeks.
"It is the first house in the UK to be built by a robot," he said.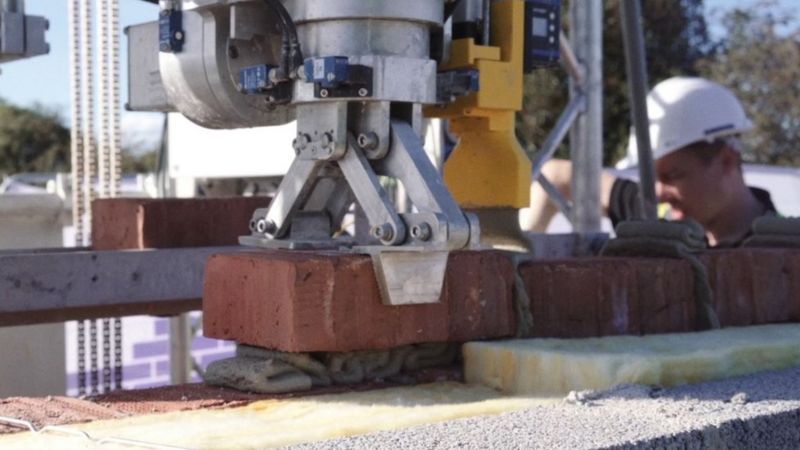 A worker is still required to control the robot, while "a skilled person" is needed to carry out other essential construction work, the company says
Mr Longbottom said extensive research confirmed there was "no house-building robot in use like this".
He said the machine was controlled from a tablet and used "a sophisticated software control system" to read digitised architectural plans.
But two workers are needed to operate the machine, load bricks and mortar into the robot, and carry out other essential work such as pointing and installing damp-proof coursing.
Mr Parkes said the robot was mounted on a track and sat on a 9m (30ft) high vertical frame, removing "the need for scaffolding and for people to work at height".
"Our goal is to automate housebuilding as far as we can," he said.
"By doing this, we can increase productivity for the industry, improve health and safety, and guarantee quality."
The union Unite said robot technology "could be a recipe for mass unemployment and rising inequality".
"But with strong unions we can ensure that new technology delivers for everyone," said Unite executive officer Sharon Graham.